Erma Templeton

Erma Templeton was the first woman to practice law in Sangamon County. Erma and her husband, James Templeton, both had their own practices in Springfield in the Reisch building downtown.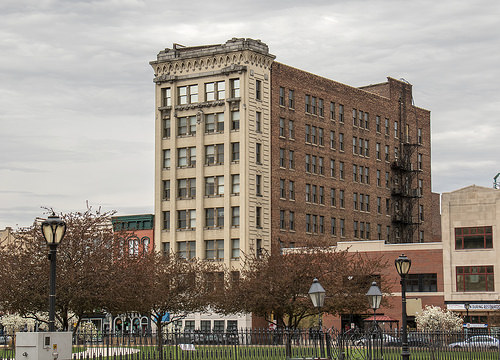 Reisch Building
Reisch Building downtown Springfield, Illinois
By the 1930's, they had moved their practices to Washington and Sixth streets. Current view of the area.
"Most people who are accused are innocent," was the famous quote by Erma Templeton, which ended up giving her some social recognition once it was the front page headline of the State Journal Register when they published an article on her.
The year was unknown when she began practicing as well as where she received her schooling. Templeton practiced in Sangamon County until 1955 when her husband passed away. She also is known for founding the Illinois Federation of Business and Professional Women's Club. She died in 1974 at the age of 95.
Erma Templeton's original copy of her license was found in a dusty old shed in Pana, Illinois by a maintenance worker at Pana High School. There is no record of how the license got there because she never lived in Pana. The license was one of the first items in the Pana History Museum, but then later was given to the granddaughter of Erma and James. Today the license is framed on the wall next to her husband's license in the office of Thomas "Casey" Hunt, the great-grandson of Erma and James in Bensenville, Illinois.
The Circuit Clerk Lookup System may be
unavailable periodically for maintenance.

All fees collected by the Circuit Clerk are mandated by law.

Main Phone
217 753-6674
Contact Us by Email
circuitclerk@sangamonil.gov