Charles R. Matheny 1821 - 1835
Reverend Charles R. Matheny married a daughter of Captain Joseph Ogesby and settled in the county of St. Clair. He turned his attention to law and politics, but retained his ministerial and Christian profession; was appointed clerk of the county of Sangamon; settled in Springfield.
Reverend Charles R. Matheny was a member of Captain James B. Moore's company of "rangers" during the months of July and August, 1812. he was afterward a member of the territorial legislature, representing St. Clair County in the lower house of the third and last assemblies, in 1816 - 1818; and was also a member from the same county in the second general assembly in 1820-1822. "In 1817, the territory of Illinois was divided into three circuits; and in the first circuit, including the counties of St. Clair and Randolf, presided over by Jesse B. Thomas as Judge, Charles R. Matheny was prosecuting attorney. In this capacity he attended the first circuit court held in Monroe County, at Harrisonville, July 21, 1817. Hew was succeeded by Daniel Pope Cook, beginning at the fall term, 1819; the latter being the first prosecuting attorney under the new State organization."
Removing to Sangamon County on its organization, in 1821, he became its first County Clerk, a position he held uninterruptedly until his death, October 10, 1839. He was also Circuit clerk until 1835. His wife survived him many years, dying at a ripe old age in 1858. Mr. Matheny was succeeded in the county clerk's office by his second son, Noah W., who held the position continuously for thirty four years, retiring in 1873 to accept the presidency of the First National Bank of Springfield, Illinois a position he held until his death, April 30, 1877. His eldest son, Dr. L. D. Matheny, a physician of bright promise, died before his father, in 1837. The third son, Honorable James H. Matheny, at the time of this writing is a county Judge of Sangamon County, having been elected for three successive terms, by an almost unanimous vote. Judge Matheny was a member of the constitutional convention of 1847, and a colleague of Ninian W. Edwards and Stephen T. Logan; he was also a Lt. Colonel of the 130th Illinois Infantry during the war of the Rebellion. The fourth son, Charles W. Matheny, was engaged in mercantile business for many years in Springfield, and was also president of the First National Bank of Springfield at the time of his death, April 16, 1879. The youngest son, E. Cook Matheny, is connected with the U.S. revenue department as a gauger, a position he acceptably filled for many years. The family in its numerous descendants from Mr. Matheny's five sons and three married daughters, is one which has maintained the reputation of their lamented progenitor, socially and morally as well as politically.
Excerpted from Pioneer History of Illinois by John Reynolds Published 1887
Click Document for a larger view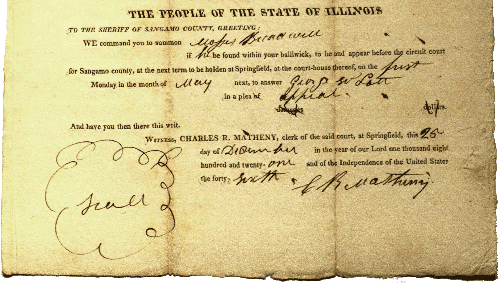 The Circuit Clerk Lookup System may be
unavailable periodically for maintenance.

All fees collected by the Circuit Clerk are mandated by law.

Main Phone
217 753-6674

circuitclerk@co.sangamon.il.us

The Circuit Clerk Lookup System may be
unavailable periodically for maintenance.

All fees collected by the Circuit Clerk are mandated by law.

Main Phone
217 753-6674
Contact Us by Email
circuitclerk@sangamonil.gov