William Butler 1835 - 1842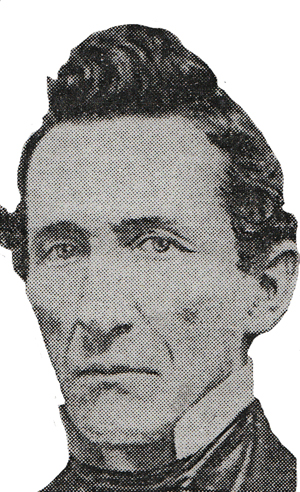 William Butler, was born December 15, 1797, in Adair county, Kentucky. During the war of 1812 he was selected to carry important dispatches from the Governor of Kentucky to General Harrison, in the field.
He traveled on horseback, and made the trip successfully, although he was but fifteen years of age. When a young man he was employed in the iron works of Tennessee, and after that he was deputy of the Circuit Clerk for Adair County, Kentucky. While thus engaged, he made the acquaintance of a young lawyer, now the venerable Judge Stephen T. Logan, of this city.
The friendship thus formed continued through life. Mr. Butler spent a portion of his time as a clerk on a steamboat. In 1828 he came to Sangamon county, and purchased a farm in Island Grove. On that farm his father, Elkanah Butler, lived and died.
William Butler came to Springfield, and was soon after appointed Clerk of the Circuit Court, by his early friend, Judge Logan, March 19, 1836, and resigned March 22, 1841. He was appointed, by Governor Bissell, State Treasurer, August 29, 1859, to fill the vacancy occasioned by the resignation of State Treasurer Miller. He was elected to the same office in 1860 for two years.
William Butler and Elizabeth Rickard were married December 18, 1832. They had three children.
Excerpted from History of the Early Settlers of Sangamon County A Centennial Record by John Carroll Power Published 1876
In the autumn of 1836, Abraham Lincoln obtained his law license. Unfortunately, little is known about the exam which was administered to Lincoln in Sangamon County Circuit Court. Without much ado, the clerk of the court, William Butler, entered Lincoln's admittance to the bar on the court record. Butler, another supporter of Lincoln, often brought the then struggling Lincoln home to have meals with wife and family. Although Lincoln had passed the bar, he faced the difficult job of obtaining a position with an established firm.
Excerpted from the Southern Illinois University Law Journal Volume 33 2009
The Circuit Clerk Lookup System may be
unavailable periodically for maintenance.

All fees collected by the Circuit Clerk are mandated by law.

Main Phone
217 753-6674

circuitclerk@co.sangamon.il.us

The Circuit Clerk Lookup System may be
unavailable periodically for maintenance.

All fees collected by the Circuit Clerk are mandated by law.

Main Phone
217 753-6674
Contact Us by Email
circuitclerk@sangamonil.gov